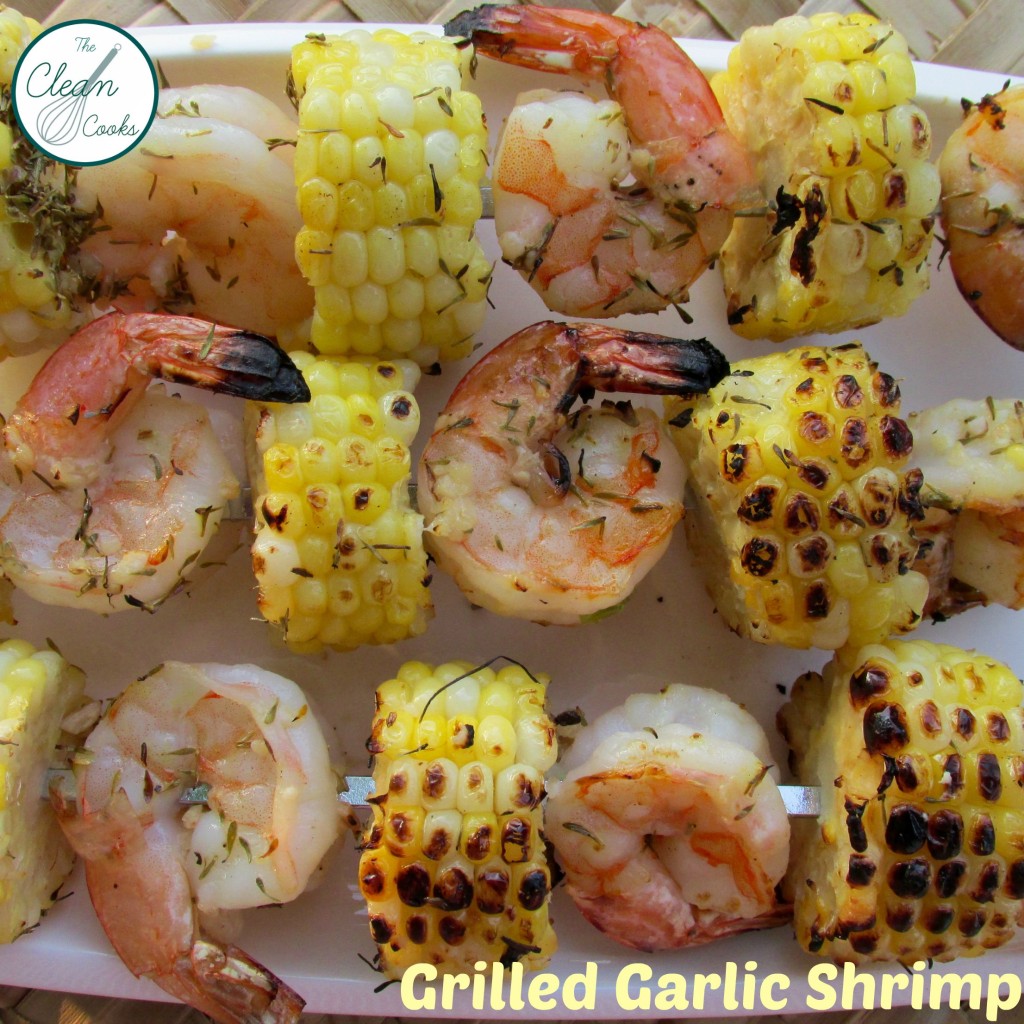 Dinner in a hurry, no worries!  This menu is the result of a long day spent squeezing every last minute out of summer as it slowly comes to an end.  We were at the beach for the day, heading home, full of sand, sweaty, and HUNGRY!  In no shape to go to a restaurant and refusing to go through the fast food drive through, I came home and surveyed my options in the refrigerator. I had a bag of shrimp and two ears of left over corn.  As you may be able to tell, I am a little stubborn about giving into the fast food, easy way out.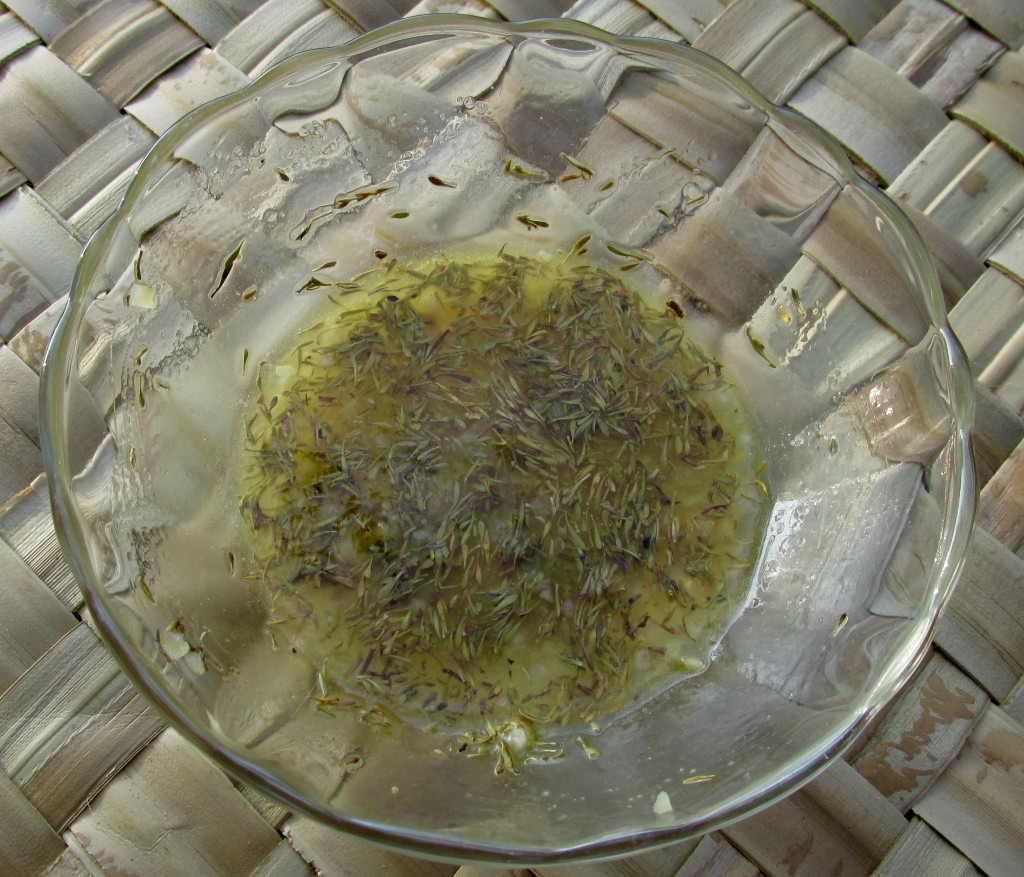 I put:
2 Tablespoons of olive oil
1 Tablespoon of lemon juice
1 Tablespoon of chopped garlic
1 teaspoon of thyme
24 oz. package of peeled and deveined large shrimp
in a bowl to marinate for a few minutes while I cut the
2 ears of cooked corn on the cob
into 1″ sections.  You need to pierce the hole in the center of the corn and use metal skewers for this recipe.  It is too difficult to use the skewer to poke the hole through the corn on the cob, especially once you start layering the delicate shrimp.  The finished kabob is too heavy for wooden skewers. Alternate the shrimp and corn on the skewer leaving enough space between them to allow for proper cooking of all items.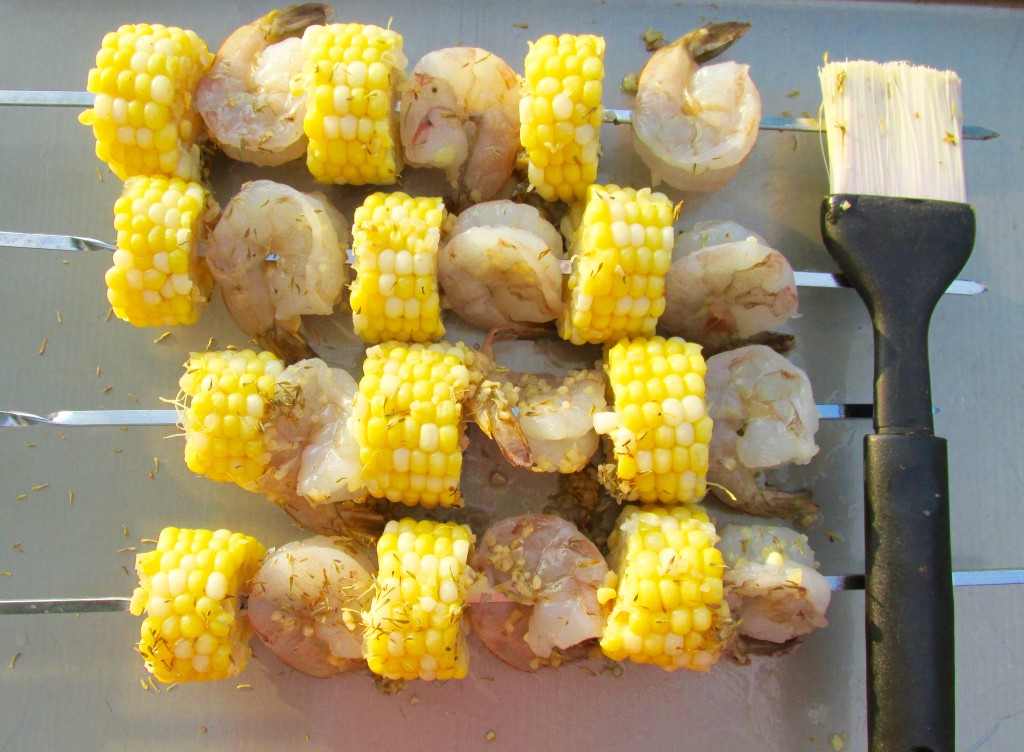 Brush any remaining marinade on the kabobs once you have finished layering them.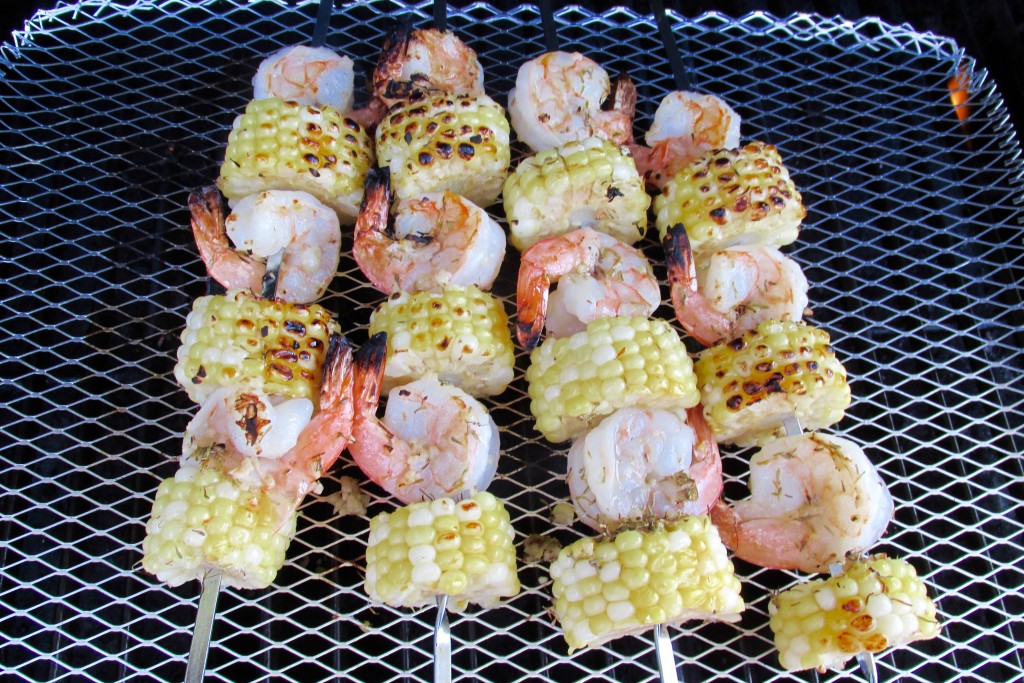 I like to use a grill screen when cooking kabobs to keep any of the pieces from falling into the fire or getting stuck between the wider grates.  Cook on medium heat for about four minutes and turn.  Cook another two to four minutes.  The flesh of the shrimp will be white when it is done. If it needs another turn of the kabob for a section that still looks clear or grayish, give it a turn for another two minutes.  It cooks very fast so keep a close eye on it!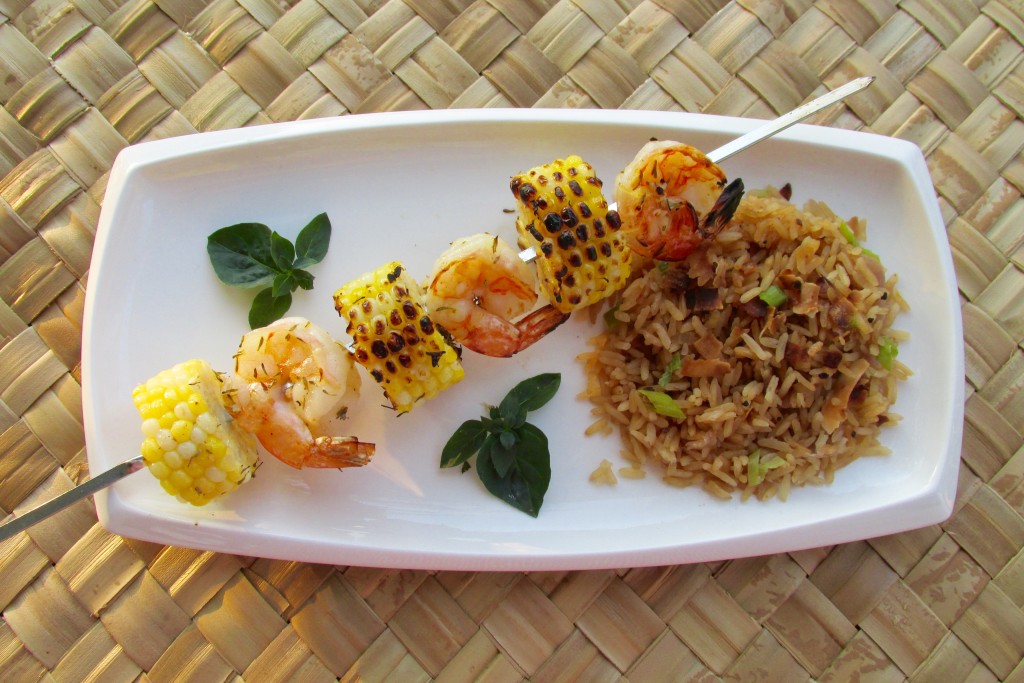 My meal prep habits are always coming to the rescue.  I had a batch of Coconut Rice in the freezer that I warmed in the microwave while my husband grilled.  It was the PERFECT side for this dish!  It honesty took me longer to snap pictures of the process than it did to throw this whole meal together.  It was delicious, clean, and the perfect end to our beach adventure for the day!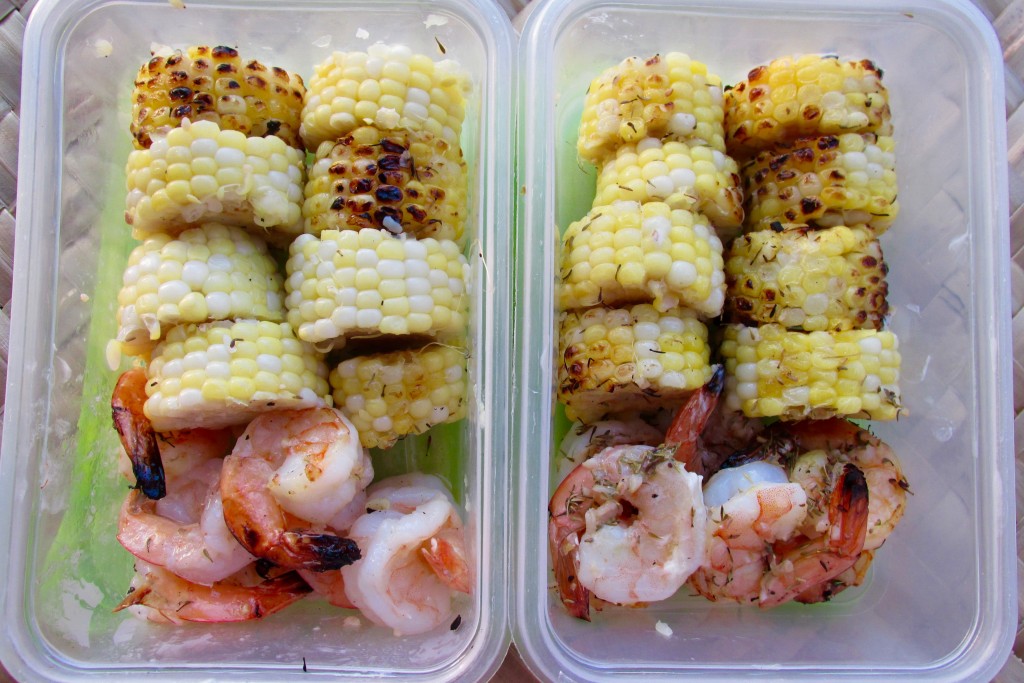 And, of course…..the leftovers were neatly packed into to go containers for a lunch sometime later in the week.  I put them in the freezer to be ready for that grab and go meal that will bring me back to the sweet memory of a day in the sunshine, at the beach, with my love.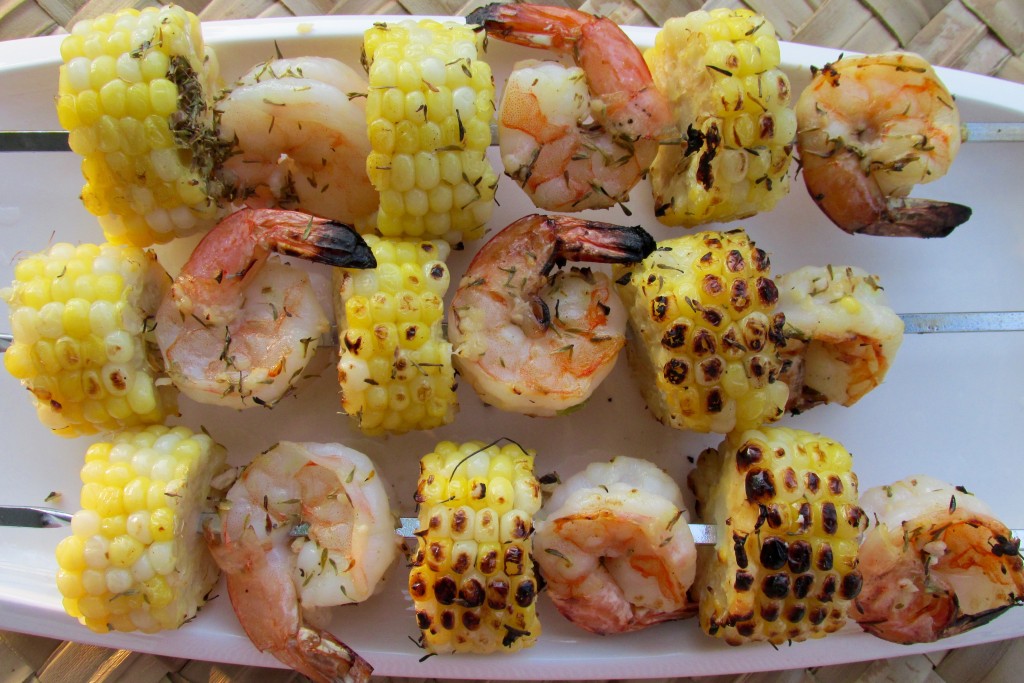 Enjoy!
Grilled Garlic Shrimp
Author:
Prep time:
Cook time:
Total time:
Grilled Garlic Shrimp that is quick, easy, and delicious!
Ingredients
1 – 24 oz. bag large peeled and deveined shrimp
2 – ears cooked corn on the cob
2 – Tablespoons olive oil
1 – Tablespoon lemon juice
1- Tablespoon chopped garlic
1- teaspoon thyme leaves
Instructions
Place olive oil, lemon juice, garlic, and thyme in a bowl and stir to combine.
Add shrimp to marinade.
Cut corn on the cob into one inch sections.
Pierce the center of the cob to allow the skewer to be inserted easily.
Alternate shrimp and corn on metal skewer leaving space between items for thorough cooking.
Brush finished kabobs with any marinade left in the bowl.
For best results, use a grill screen to prevent pieces from getting stuck between the grates.
Cook on medium heat approximately four minutes.
Turn and cook an additional two minutes.
Check to see the shrimp flesh has turned from a clear, grayish color to white.
If needed, turn skewers and cook another two minutes on any area that is not done.
Cooks very quickly
Serving size:
1 kabob
Calories:
158
Fat:
3.4 g
Carbohydrates:
9 g
Fiber:
.5 g
Protein:
23.5 g
Mom Cooks Clean