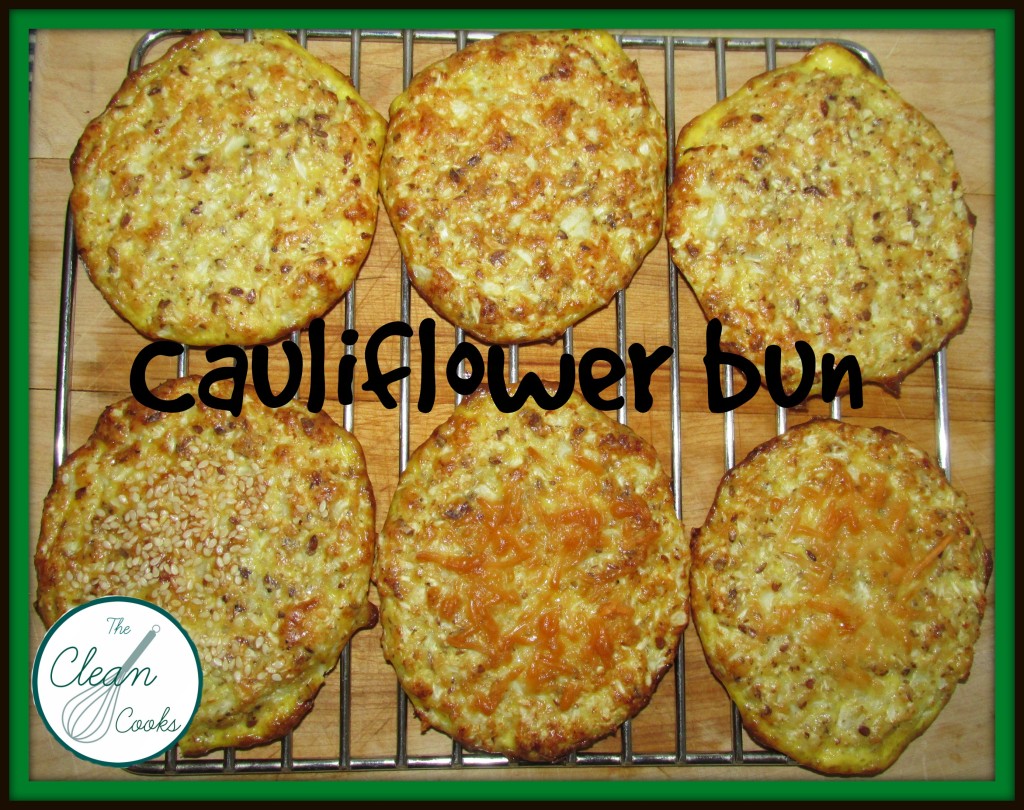 Whether you are trying to cut carbs, steer away from refined grains, looking to change it up a little, trying to add more protein to your diet, or need to eat gluten free this bun does it all!  First I was trying to tweak a recipe for a grain free roll and came up with a really nice one using cauliflower and garbanzo flour.  It was very good!  Then I realized I could change it up a little to make it low carb and started testing that out to see which one I liked the best.  That was a problem!  I loved them each, but for different reasons.  The one with garbanzo flour gave me that "bread" feeling when I ate it.  The parmesan one was very tasty, low carb, and packed with protein for such a little bun.  I decided to publish them both!  Pick the one that fits your dietary goals the best.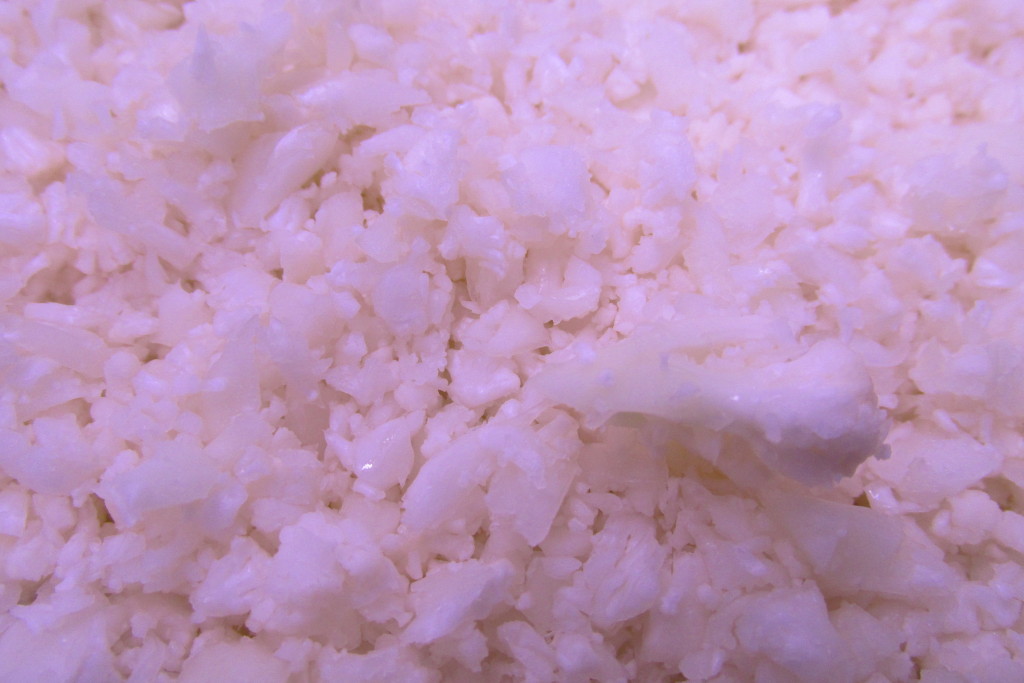 You will need approximately 1/2 of a medium head of cauliflower.  Use a food processor to blend the buds and stems to about the size of rice.  You will need 2 cups of chopped cauliflower with each recipe.  See recipe cards for individual ingredients.  Combine all ingredients in a bowl.  Heat oven to 350 degrees.

Divide the mixture into 6 portions.  I have a muffin top pan that is the perfect size.  I used olive oil pan spray on the pan.  I also baked a batch on baking paper.  Scoop the mixture onto the paper lined pan and use a frosting spatula to flatten out and then give it a quick swirl around the edges to make them smooth.  Bake for 20 minutes until golden brown.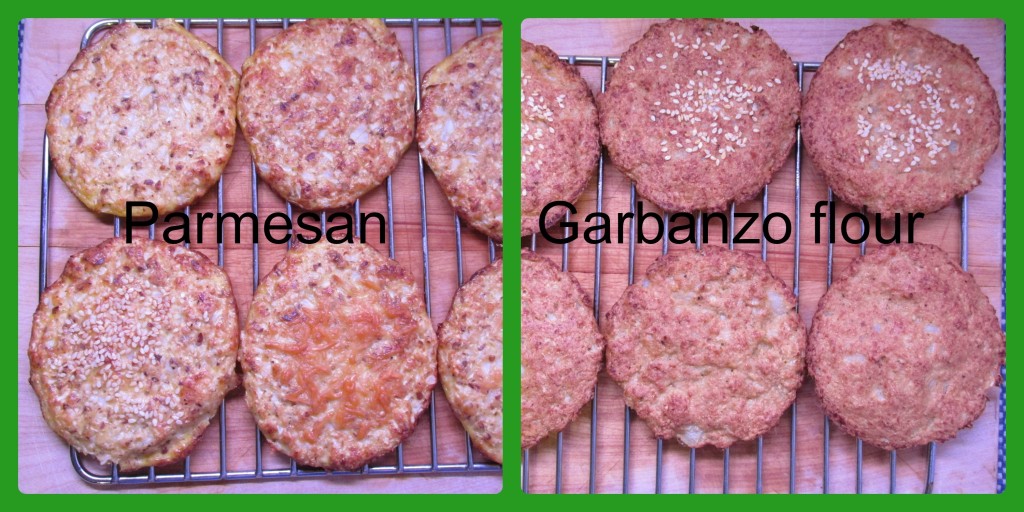 I let them cool for about 5 minutes on a wire rack to prevent them from getting sweaty.  They can be stored in an air tight container.  You can find them featured in the Greek Turkey Burger Post.  The garbanzo version comes in at 11 g. of protein for 1 bun (2 pieces) and the parmesan bun has 14 g. of protein! Both are gluten free and 100% yummy.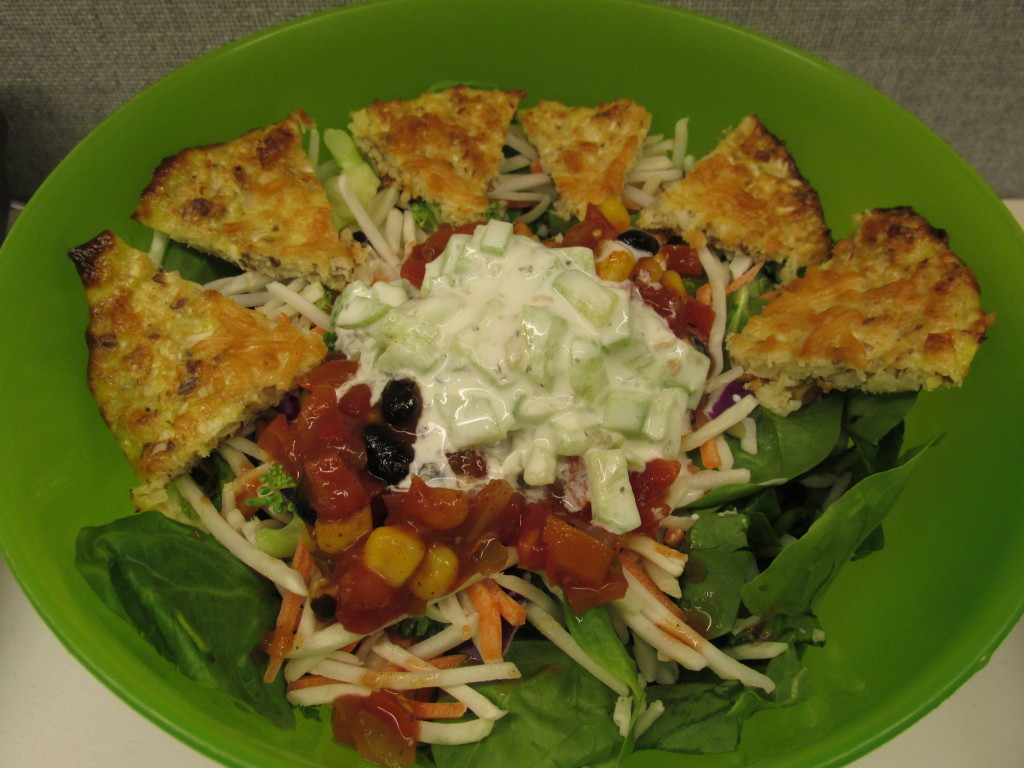 I popped one in the toaster, cut it in triangles, and added it to my Mason Jar Salad. I called it a pita wanna be.  I threw on a little black bean and corn salsa and some tzatziki sauce from the Chicken Gyro Salad post. Full of flavor–that is what we strive for at The Clean Cooks!
Enjoy!
Mom Cooks Clean
Cauliflower Bun
Recipe Type
:
Gluten free bun
Author:
Prep time:
Cook time:
Total time:
Gluten Free bun with cauliflower and garbanzo flour
Ingredients
2c. food processor blended cauliflower buds and stems approximately the size of rice
2 eggs (substitution: flax eggs)
2/3c. Garbanzo flour
1/2 tsp. baking soda
1 tsp. Mrs. Dash seasoning – I chose original
Instructions
Preheat oven to 350 degrees.
Combine all ingredients.
Divide into six portions.
Use olive oil spray on a muffin top pan or parchment paper on a baking sheet.
When using baking sheet, scoop portions on to pan and spread to flatten. Make a quick swirl around the outside of the bun with the frosting spatula to make the edges smooth.
Optional: add a little sesame seed or shredded parmesan to the top of the bun before baking.
Bake for 20 minutes until golden brown.
Cool on wire rack to prevent sweating.
Store in air tight container.
Serving size:
2 pieces
Calories:
160
Fat:
5 g
Carbohydrates:
19 g
Sugar:
4 g
Sodium:
284 mg
Fiber:
6 g
Protein:
11 g
Directions for the Low Carb, Gluten Free Bun with parmesan are the same.  The ingredients list is as follows:
*2 c. food processor blended cauliflower buds and stems approximately the size of rice
*2 eggs — flax seed eggs can be substituted
*1/2 c. grated parmesan cheese
*1 TBS milled flax seed
*1/2 tsp. Mrs Dash — I choose garlic herb for this version
optional toppings: sesame seeds or shredded parmesan cheese
Baking instructions are identical.  20 minutes at 350 degrees
Nutritional information for this version:
153 calories
14 g protein
10 g fat
4 g carbs
2 g fiber
2 g sugar
367 mg sodium